Need something green for St Patrick's Day?
Bennison's has you covered. Shamrock cupcakes, clover cookies, green and gold cakes. You don't have to be lucky or Irish, you just have to walk into the store!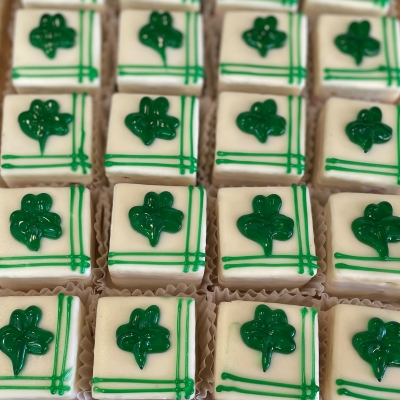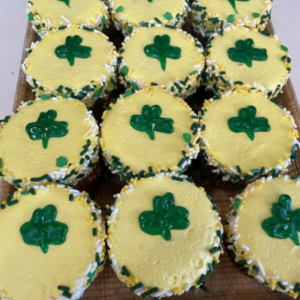 Shamrock Cupcakes
Our cupcakes are perfect for parties, and for times when a whole cake is too much.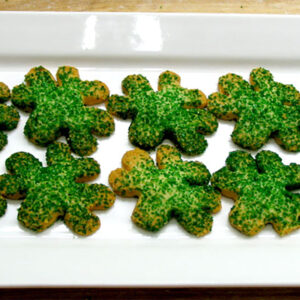 Shamrock Cookies
Our classic sugar cookies in shamrock shape, covered in green sugar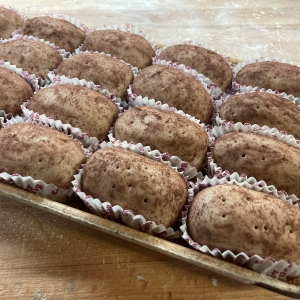 Irish Potatoes
In the mood for something a little different? Try one of our Irish potatoes. Dense chocolate inside with walnuts, maraschino cherries and a splash of dark rum, wrapped in marzipan and then powdered with cocoa.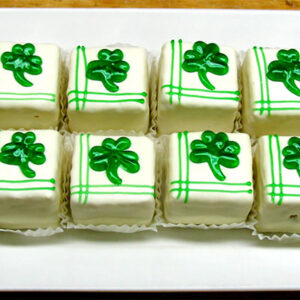 Petit Fours
Our classic petit fours; layers of white cake and raspberry filling covered in white chocolate, decorated for the holiday with green shamrocks.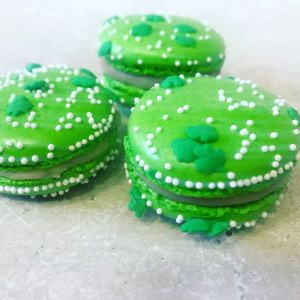 Baileys Macaron
Our traditional french macarons, filled with creamy baileys ganache, decorated with shamrock sprinkles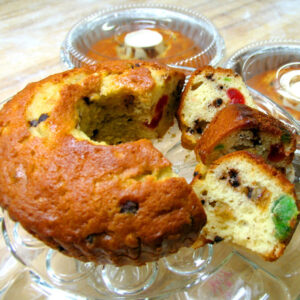 Irish Whiskey Cake
A yellow pound cake filled with red and green glazed cherries, walnuts, white raisins, and chocolate chips. Once out of the oven we soak it with a generous helping of Jameson Irish Whiskey flavored syrup.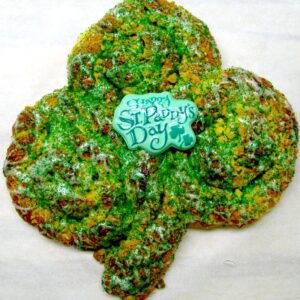 Shamrock Coffee Cake
For breakfast, why not try one of our Shamrock coffee cakes? Soft, buttery dough covered in streusel and green sugar, enough for the whole family.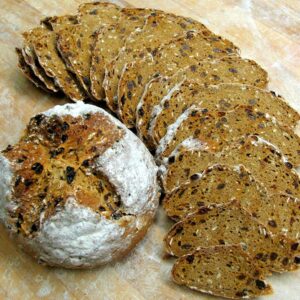 Irish Soda Bread
For St. Patrick's Day this year, we've changed the recipe for our Irish Soda Bread to one shared with us by an artisan baker surnamed Fitzpatrick.
We've blended organic rolled oats, organic whole wheat flour and organic cracked wheat to create the same flour used by another baker friend, James Griffin, who works at his family's bakery in Dublin. We add fresh buttermilk and golden molasses, then fill it with plump currants and a hint of caraway.
It's so good people actually come back for more, saying it was the first Irish Soda Bread they'd eaten because it tasted great, instead of just out of tradition.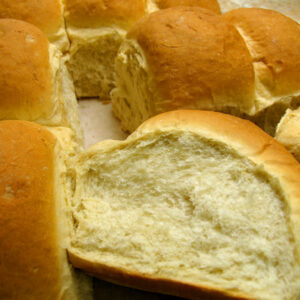 Irish Batch Bread
A traditional soft, white loaf made with butter and honey, baked 16 to a sheet then pulled apart so you only get crust on top. Perfect for pulling apart to soak up stews or roasts, or just by itself with a little extra butter and honey.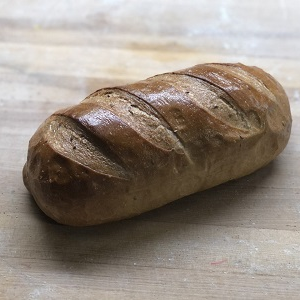 Rye Bread
Soft and delicious rye bread loaf, perfect for any sandwich.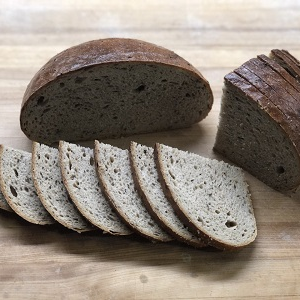 Grandpa's Rye
Traditional, large round rye bread, this bread is full of flavor since its made with real rye sour and caraway seeds. Sold by halves
Getting Hungry? Visit the Online Shop to Order for Pickup!
Order online and your items will be put aside and ready for quick and easy pickup.