We will be open Wednesday, November 25th our regular hours, 7 AM to 6 PM, and on Thanksgiving Day Thursday, November 26th from 7 AM to 12 PM. We ask that you order any Thanksgiving items you would like on these days at least 48 hours in advance.
For Thanksgiving this year we offer a variety of classic and new items sure to make your family, or whoever you happen to be spending the holiday with, happy. Pies, breads, cakes, rolls, even pastries, all baked with care for your dinner table.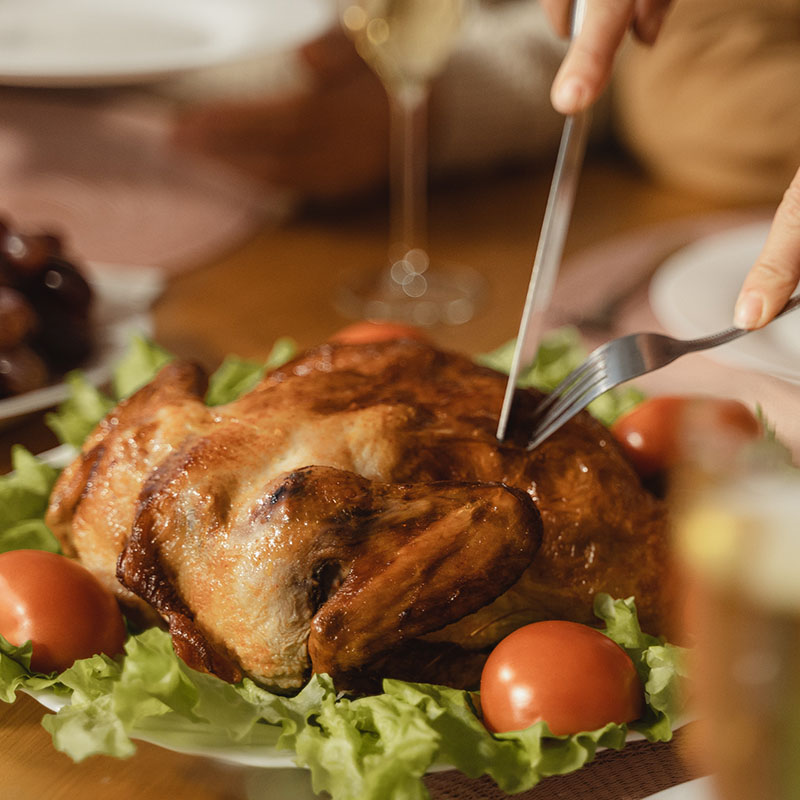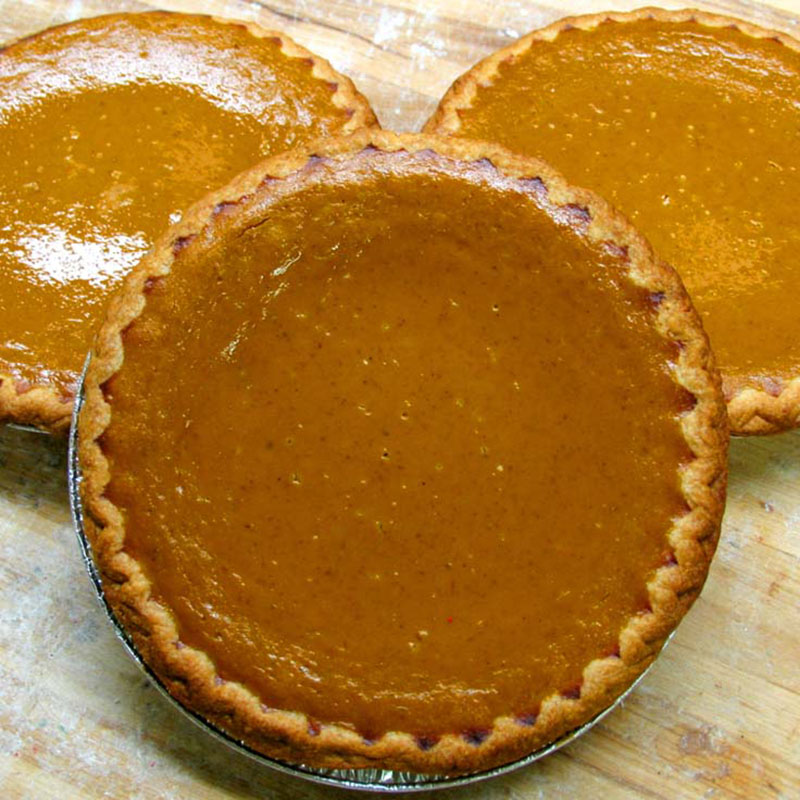 Pumpkin Pie
Our Pumpkin Pie recipe has remained unchanged since 1938. We use fresh milk, evaporated milk, fresh eggs, honey and a special blend of spices. No milk powder, glucose or starches here! We also use a secret baking technique that makes our pies extra special.
Our Pumpkin Pie is made and baked fresh the day you order it, never prepared in advanced or frozen.
Available in 9" for $16.99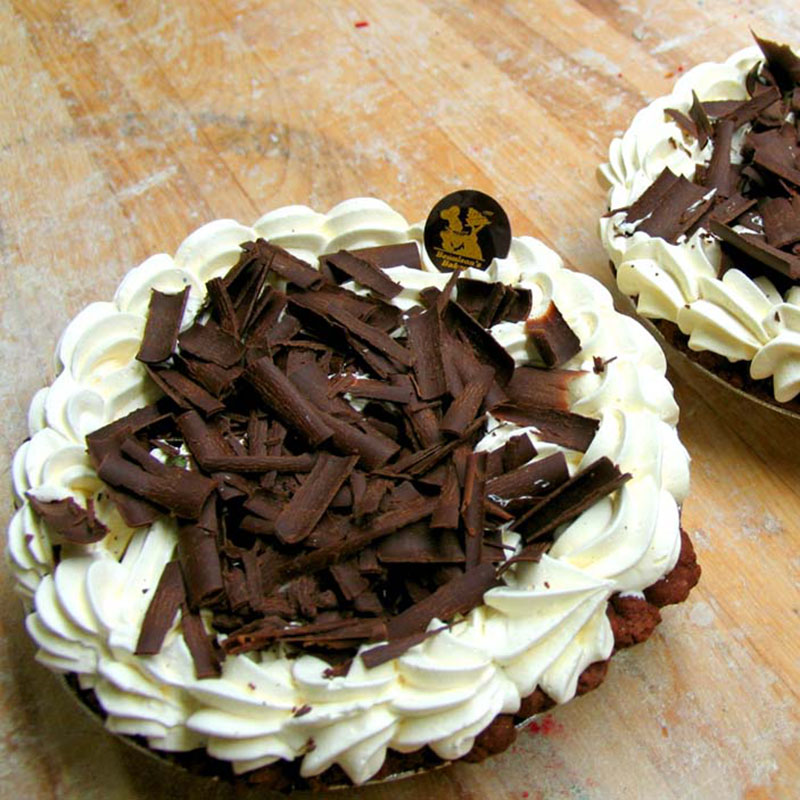 French Silk Pie
Pure bittersweet chocolate, butter, fresh eggs & real vanilla. We make a special chocolate crust for this one! Topped with whipped cream and chocolate shavings. Decadent and perfect for any chocolate lover.
Available in 8" for $15.89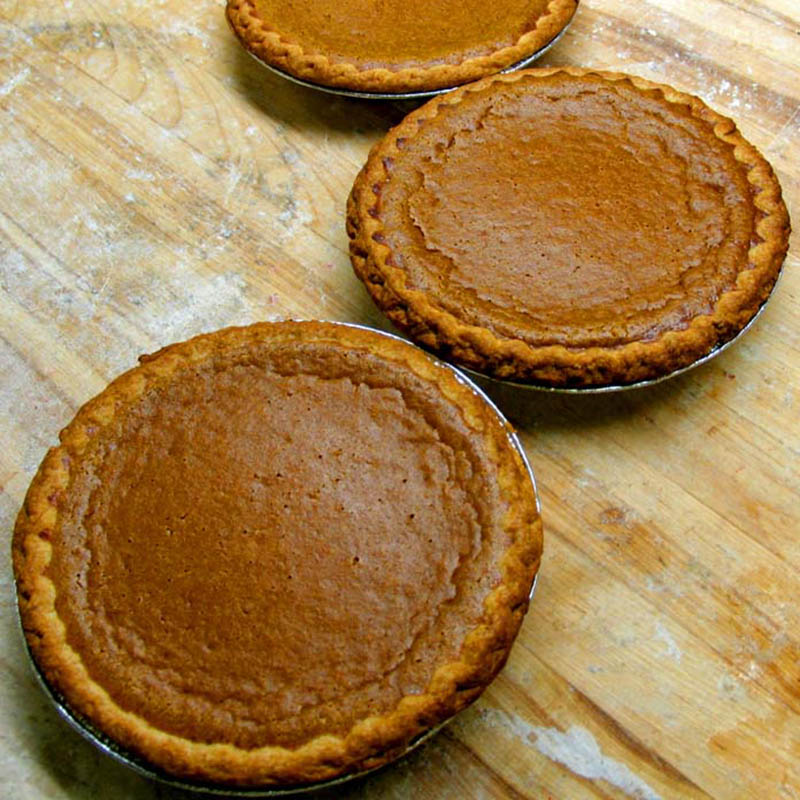 Sweet Potato Pie
First we boil 'em, then we mash 'em. Fresh sweet potatoes, brown sugar, evaporated milk and butter... lots of butter. The mix is spiced lightly with cinnamon, nutmeg and ginger, then baked in our own homemade crust.
Available in 9" for $16.99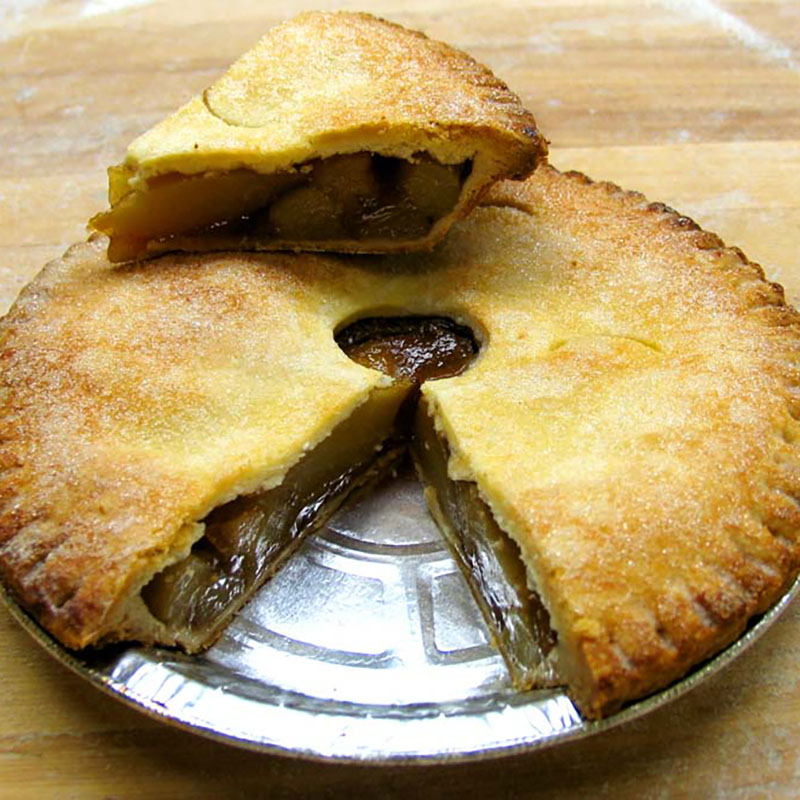 Apple Pie
Freshly peeled and sliced Fuji and Granny Smith apples, brown sugar & cinnamon, baked inside flaky pie pastry, topped with a sugared pastry crust.
Available in 9" for $16.04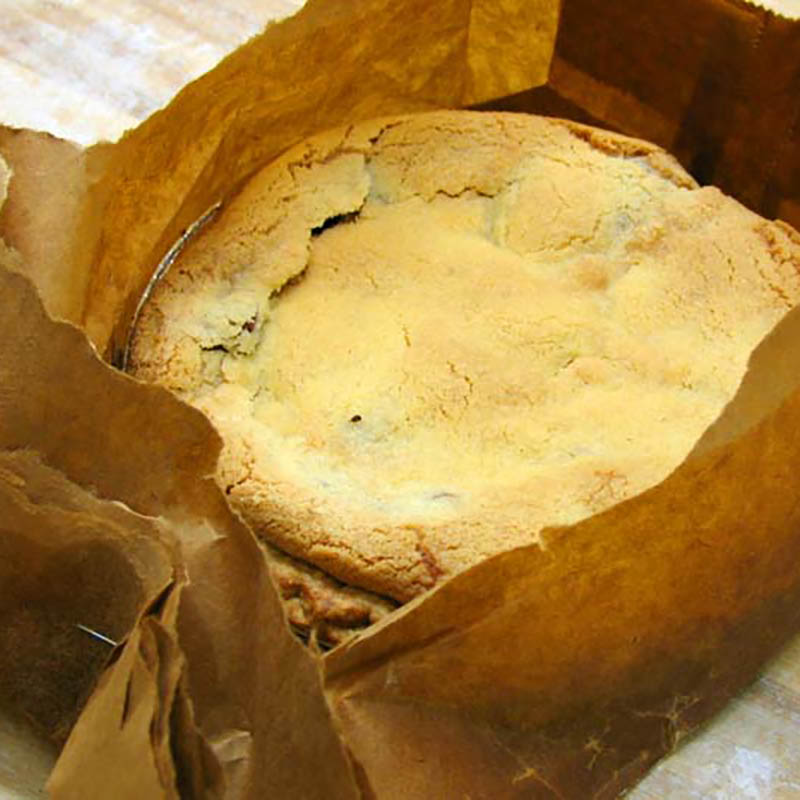 Sack Apple Pie
Freshly peeled and sliced Fuji and Granny Smith apples, cinnamon & butter all put together in our own pie crust, sealed in a paper bag, and baked…a long slow "steam" bake. The closest to a homemade pie available anywhere!
Available in 8" for $14.99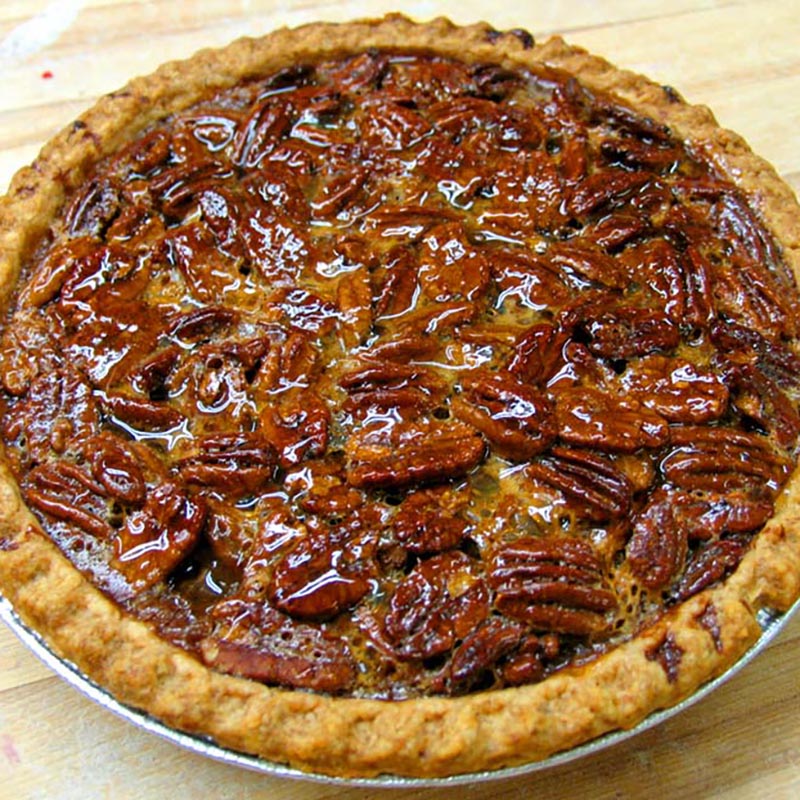 Pecan Pie
Georgia pecan halves, honey, butter, eggs and vanilla baked in our flaky homemade pie crust. A true holiday favorite.
Available in 9" for $24.99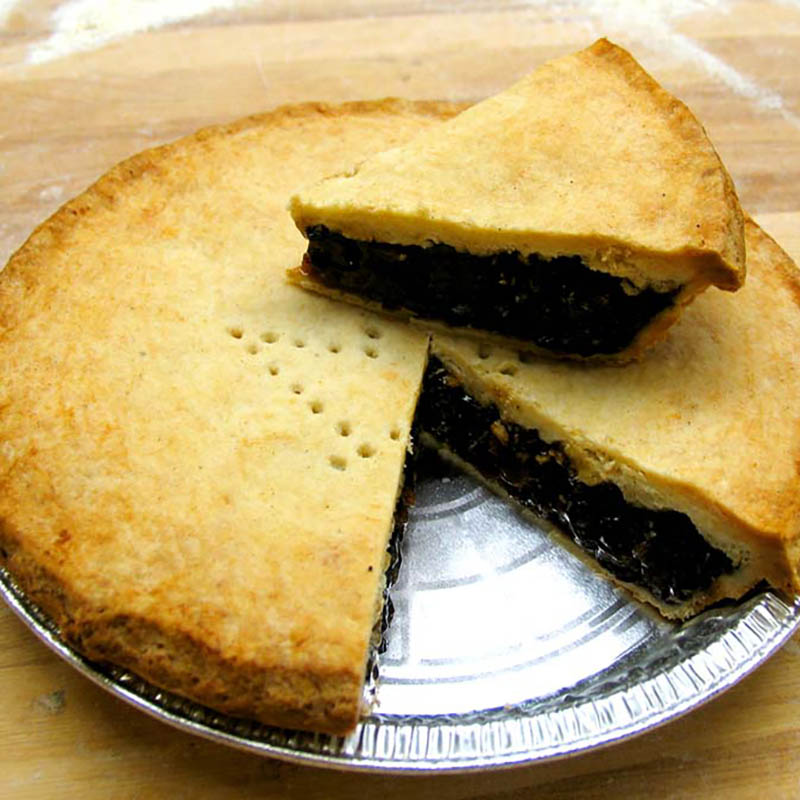 Mince Pie
Apples, raisins, diced fruit, applesauce and a hint of pineapple gives this pie its unique flavor.
Available in 9" for $16.04 Banana Cream Pie
Short dough crust filled with vanilla bean pastry creme, layered with properly ripe sliced, fresh bananas, and topped with sweetened whipped cream. Made from scratch from start to finish, nothing artificial gets near this pie!
Just one size, an 8" Banana Cream Pie is $15.89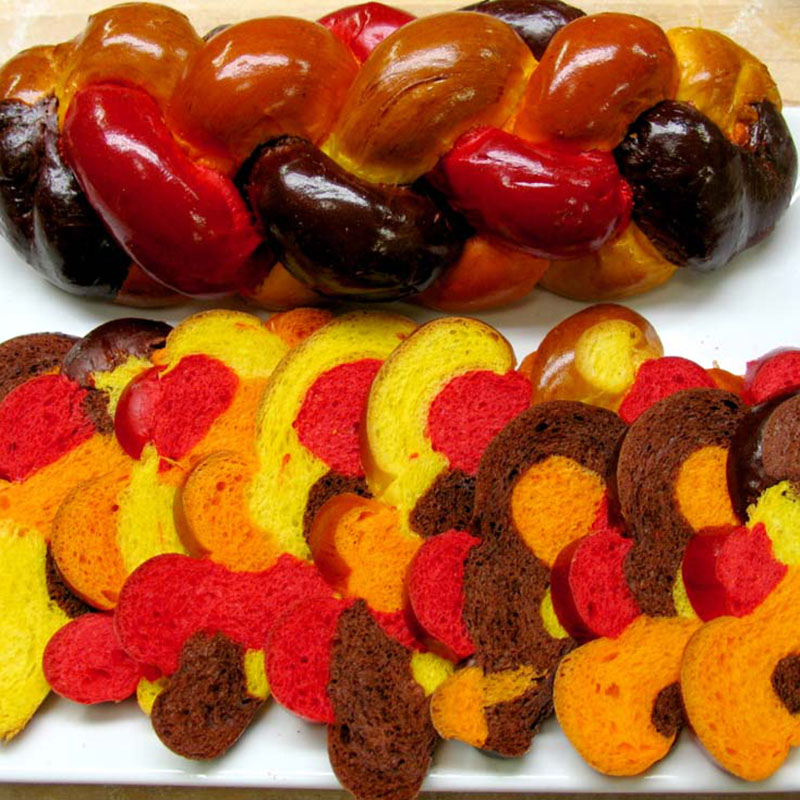 Harvest Bread
No Thanksgiving dinner table is complete without this bread. It is rich egg dough that we color and create a four braid twist loaf.
Available in a one pound loaf only for $6.94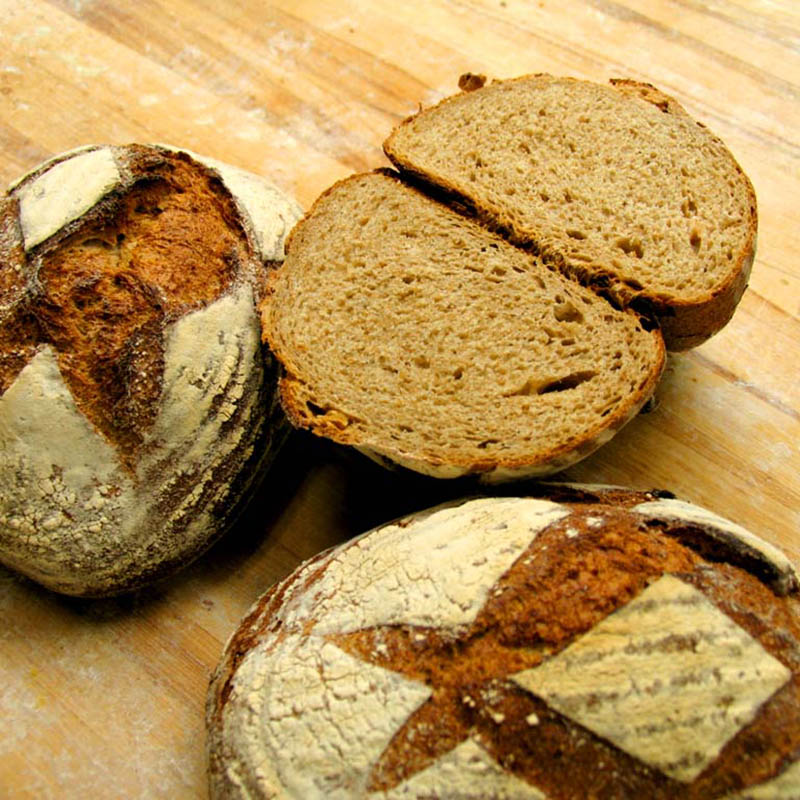 Pain Normandy
Originating in the Normandy region of France, bakers started adding apple cider to their dough in place of water. We've gone a little further, adding diced, dried Michigan apples, butter and honey. Using 40% rye and 60% whole wheat, the dough is "soured" with natural sourdough yeast. Bennison's owner Chef Jory Downer has said, "If I was to compete in another baking competition, this bread would be my first choice to use there!"
Loaves are $6.51 and available through the holidays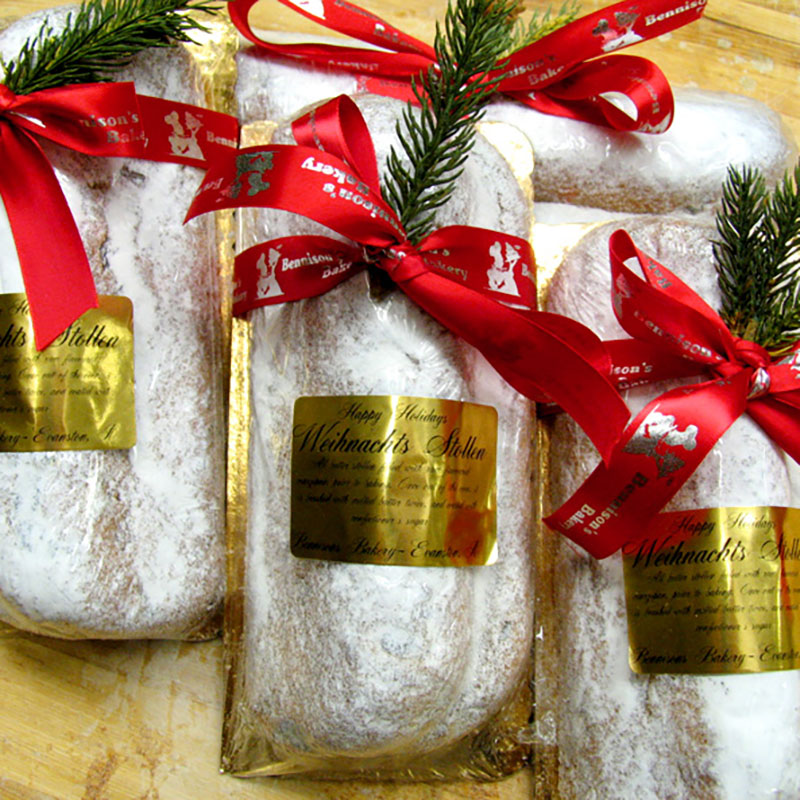 Weihnachts Stollen
The pride of our holiday line. All butter stollen, light on diced fruit, but heavy on the rum and raisins. Filled with rum flavored marzipan prior to baking. Once out of the oven it is brushed with melted butter twice and coated with confectioners' sugar.
Small loaf for $17.99
Large loaf for $26.99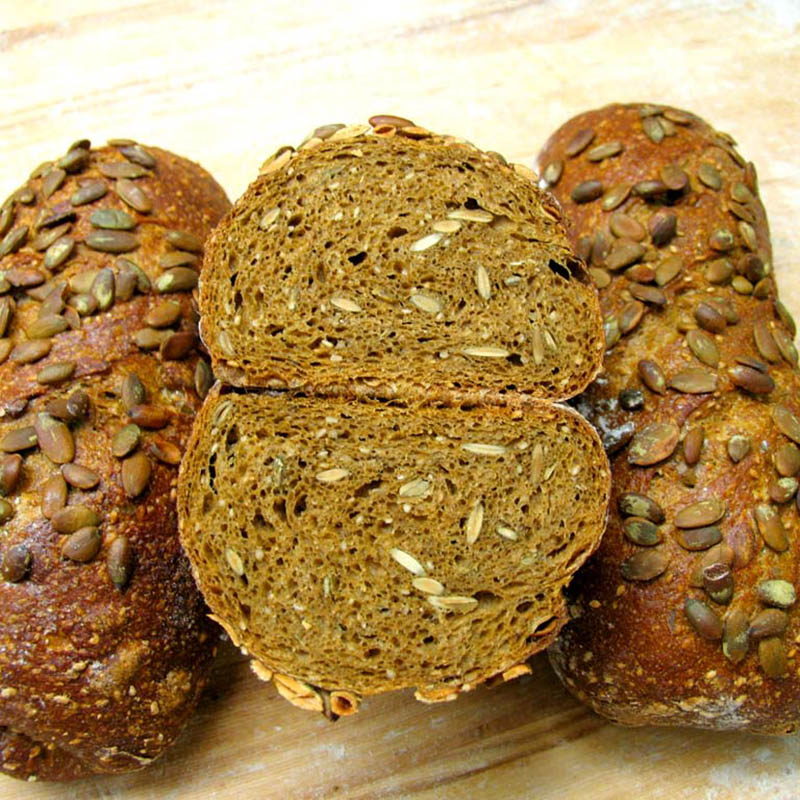 Pumpkin Sourdough
We make this loaf with natural, airborn yeast instead of compressed yeast. We use toasted organic pumpkin seeds, sesame seeds, honey, roasted pumpkin puree, and a pinch of pumpkin spice in a dough made with unbleached, unbromated white flour and organic stone ground whole wheat flour. Rolled in more toasted pumpkin seeds, it's a slightly sweet, hearty loaf that goes great with a meal. Pumpkin Breakfast Bread
Pumpkin puree is blended with brown sugar, spices and walnuts to make a really tasty, moist loaf. Good for breakfast, with dinner, or even as dessert!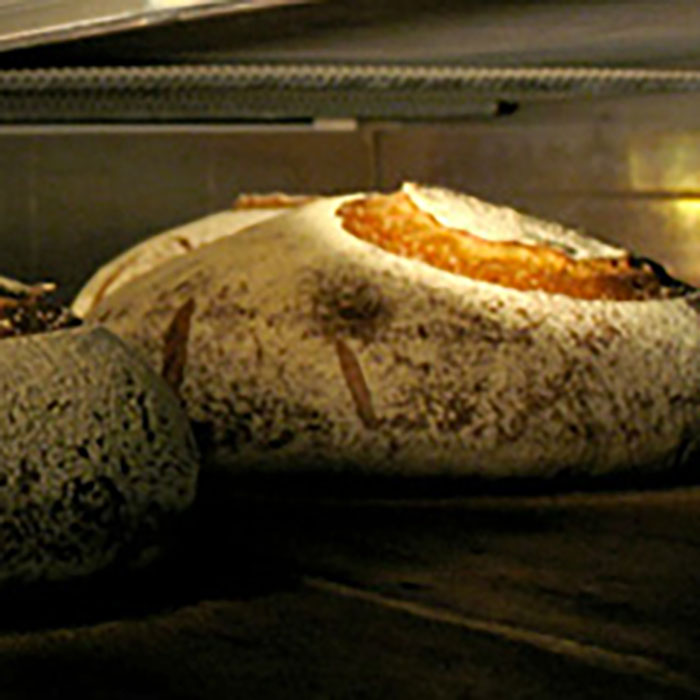 Organic Miche
Our miche is made with 100% certified organic wheat flour. We bake it in large 5 pound loaves in our brick oven. Using this type of flour and using sourdough yeast as leavening, we've re-created the same loaf folks ate centuries ago.
A full loaf is $25.00, or $6.25 per quarter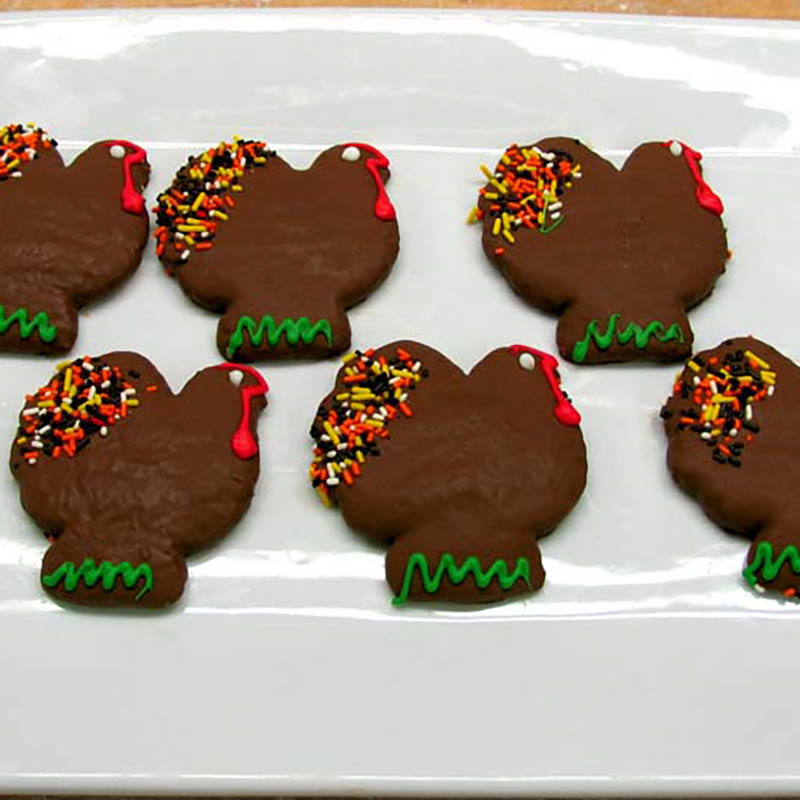 Turkey Cookies
An all-butter cookie, glazed with milk chocolate, then hand decorated to look like a turkey. Perfect as a decoration and a dessert!
Turkey Cookies are
$2.97 each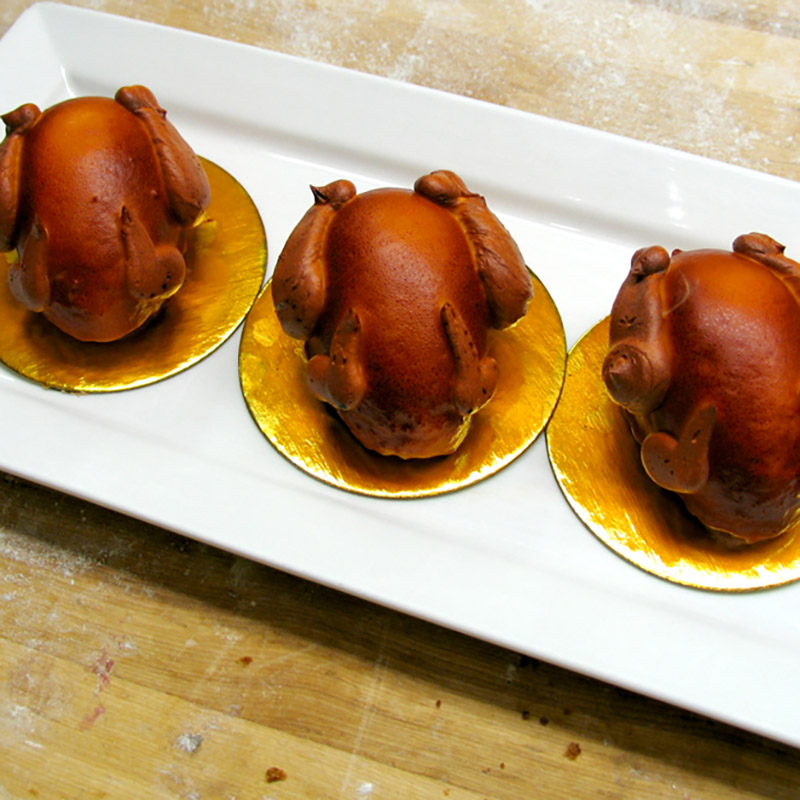 Mini Turkey Cakes
Our classic yellow cake, covered in chocolate ganache then decorated.
Turkey cakes are $4.79 each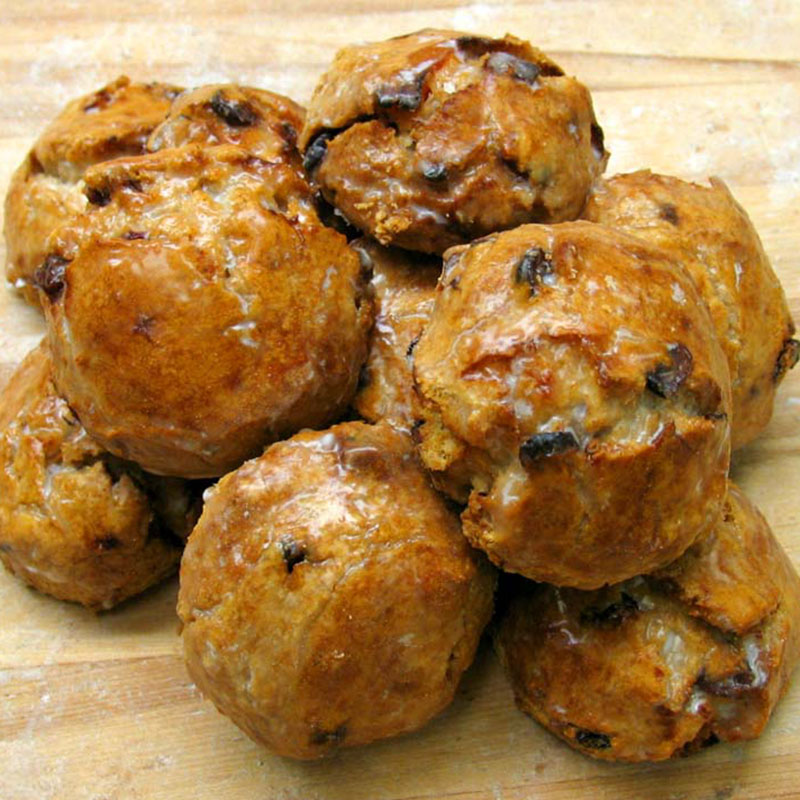 Scones
Made with all butter and buttermilk, choose from mixed fruit made with apricots, cranberries, dates and raisins, raspberry filled, or chocolate chip.
Pumpkin Cream Cheese Galette
A rustic open face tart from Provence. Flaky pastry filled with cream cheese and dried cranberries, topped with pumpkin pie filling under butter streusel.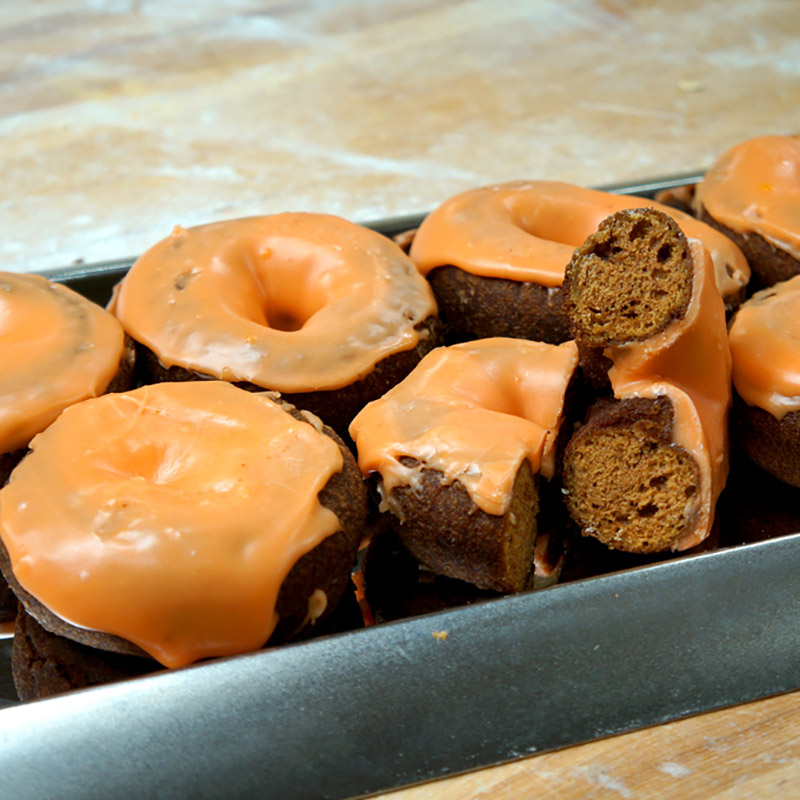 Pumpkin Donuts
Only available from Labor Day until Thanksgiving day, but yearned for year-round. Our regular cake donut ingredients blended with pumpkin puree and pumpkin spices, covered with an orange color glaze.
Get them while you can, just $1.65 each Pumpkin Muffins
Slightly sweet muffin batter spiced just right. Filled with cream cheese before baking for a real harvest time treat.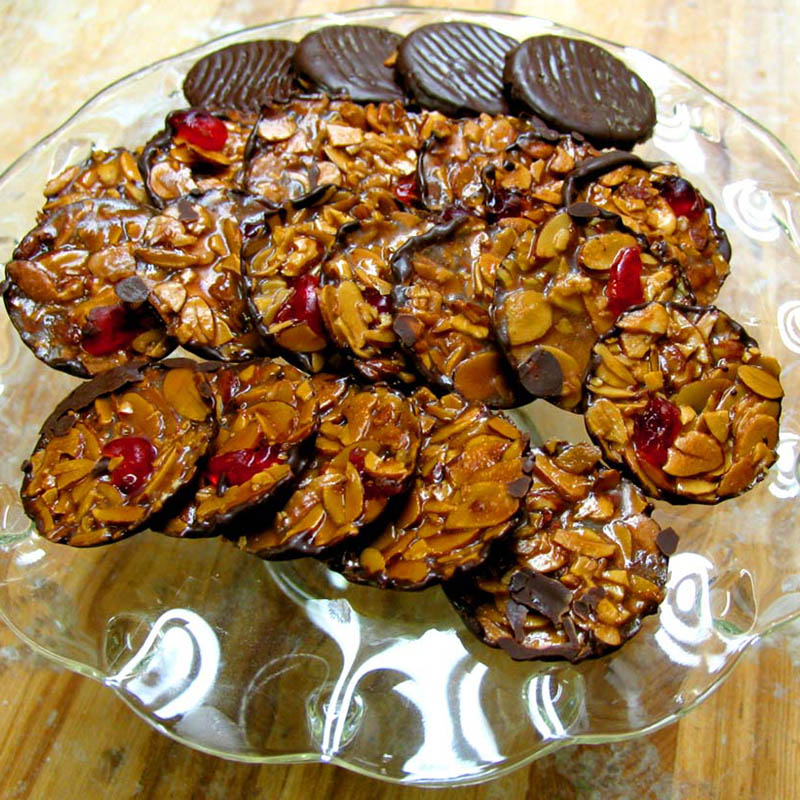 Florentines
Our signature item. Sliced blanched almonds, sugar, butter & honey mixed together and baked to toast the almonds, then cooled and dipped in chocolate.
Sold for $21.00 per pound
Dinner Rolls
$4.81 per dozen
Seeded knot & plain round
Traditional rich egg dough. Knots are topped with either poppy or sesame seeds. They are bagged 4 plain and 4 of each seed. The plain round are perfect for mini turkey sandwiches.
Raisin Fennel
A blend of durum wheat, golden raisins and whole fennel seeds. A true Manhattan icon, both sweet and savory together.
Rustic Grain
We blend organic rye and whole wheat flours, sesame seeds, flax seeds, millet, oatmeal & cracked rye. We bake it in a "squareish" shape with a floury outside.
Parkerhouse Rolls
Rich egg dough sweetened with honey and loaded with butter. Getting Hungry? Visit the Online Shop to Order for Pickup!
Order online and your items will be put aside and ready for quick and easy pickup.