Authentic Parisienne Macarons
Authentic Parisienne Macarons
Made of egg whites, almond powder, icing sugar and sugar, traditional French macarons date back nearly 400 years. Filled with creams or ganache, each macaron is as delicious to eat as it is difficult to create. Originally made for King Louis XIV of France, the perfect macaron is a true sign of baking skill and dedication.
Even though we're not serving royalty, at Bennison's we still strive for that same perfection in our macarons. Created the same way they were 400 years ago, one bite should be all it takes to convince you.
A variety of flavors are always available, such as classic chocolate, raspberry, strawberry, vanilla, caramel, mocha or pistachio.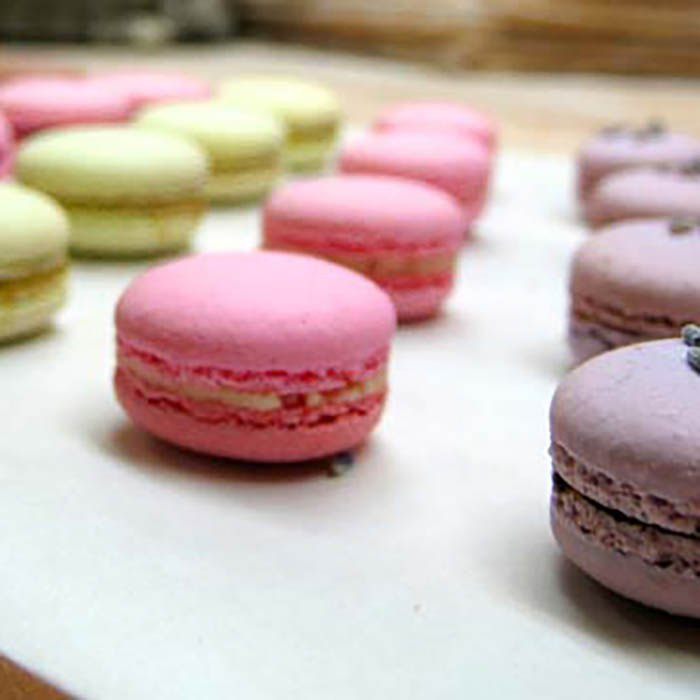 Process Highlight
Each macaron cookie is hand piped onto parchment then baked for 12 minutes. They're allowed to cool, then filled. (Left image, salted caramel macaron cookies being piped. Right image, vanilla macaron cookies being filled with vanilla cream).
Every color is a different flavor, each one just as delicious as the last. Strawberry, lemon, pistachio, chocolate, even red velvet with cream cheese inside.
Getting Hungry? Visit the Online Shop to Order for Pickup!
Order online and your items will be put aside and ready for quick and easy pickup.